The theme for the Crazy Cooking Challenge this month was cheesecake. The themes are getting harder for me because they seem to be things that I've tried to make before and have failed majorly at making. Last month's fried chicken challenge ended in me getting very frustrated and swearing off fried chicken ever again...which is pretty easy because I hate fried chicken in the first place.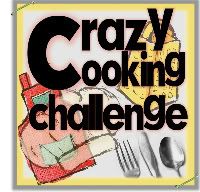 This is now my third cheesecake "masterpiece". The first one was for a recipe swap, and it turned out good, just nothing too exciting. The second one was going good, and then I pulled it out of the oven and found a giant crack down the center of it. This crack made some Grand Canyon crevasses seem small. So, I guess this third one I didn't have too high of hopes for. I figured I'd try to make something that sounded interesting, but if it didn't turn out, I'd just chalk it up to being something I'd always buy from the store, and never attempt at home again.
I loved the idea of an Oreo cheesecake, but a few months ago, my husband introduced me to Golden Oreos, which I love just as much as the chocolate ones. So, I decided to switch things up and use them in the cheesecake instead. I found this recipe on blog that listed the blogger's favorite cheesecake recipe. Bites of Sweetness has amazing pictures that make your mouth salivate even though you're a thousand miles away from her kitchen.
Golden Oreo Cheesecake
barely adapted from
Bites of Sweetness
Ingredients
1 package Oreo cookies, divided (any flavor)
1/3 cup of butter, melted
3 packages cream cheese, softened
3/4 cup of sugar
1 cup sour cream
1 teaspoon vanilla extract
Directions
1)
Preheat oven to 325 degrees. Finely crush about 20 cookies and coarsely chop about 10 cookies; set aside.
2)
Mix finely crushed cooke crumbs and melted butter in a bowl. Press into the bottom of a 9-inch springform pan.
3)
In a mixer, beat the cream cheese and sugar until creamy.
4)
Add eggs one at a time and beat only until just incorporated.
5)
Add sour cream and vanilla and mix until incorporated.
6)
Fold in chopped cookies.
7)
Spread mixture onto crust and bake for 55 to 60 minutes.
8)
Place in the fridge and chill at least four hours, or overnight.
Chocolate glaze
1/2 cup heavy cream
1/8 cup sugar
1 tablespoon butter
1/8 cup corn syrup
4 1/2 squares of white baking chocolate, coarsely chopped
Directions
1)
Place chocolate in a heat proof bowl.
2)
Heat the cream, sugar, butter, and corn syrup in a small sauce pan over medium heat until just simmering.
3)
Pour over chocoalte and mix until smooth. (The more you stir, the more it will thicken).
4)
Pour over cheesecake and decorate the top as desired.

I liked the flavors of this cheesecake a lot. I wish the oreos retained some of their crunch, but the flavor is still fantastic. The blogger said that over-incorporating the eggs into the mixture causes cracks, and I just beat them in until incorporated and I still had cracks in the top of the cheesecake. I guess that is what the chocolate glaze is for though. This is a great change from the normal oreo cheesecake.