This is my second
Secret Recipe Club
blog swap. In the club, you are assigned someone's blog and you can make whatever you want. Click on the link and peruse the site to learn more about the recipes that have been posted and for rules about the club.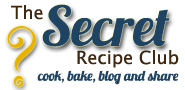 This month I was assigned
Cheap Ethnic Eatz
, which is written by Evelyne in Canada. Evelyne has such a diverse collection of recipes, which I found incredible. I have never been a super adventurous eater (it took me several years to warm up to the idea of sushi). However, she has a great list of ice cream on her recipe index. She has everything from
White Asparagus Ice Cream
to
Strawberry Jam Balsamic Ice Cream
. One of the non-ice cream dishes that I'd love to make from Evelyne's blog is her
Truffled Tomato Tarte Tatin
. Please head over to her blog to tour an amazing selection of food.
I was obsessed with Evelyne's ice cream list. Let's be honest, I love most desserts. However, I am a self professing ice cream addict. I could eat a bowl every night and be in bliss. Cookies and cream? Yes! Give me a tub of Ben and Jerry's Cherry Garcia Ice cream and I've died and gone to heaven. Milkshakes are even accepted too. Can you see a theme here?
I have always LOVED Carrot cake though, and the second that I laid eyes on the link in Evelyne's blog that said she had Carrot Cake Ice Cream, I knew that is what I had to make.
Carrot Cake Ice Cream
barely modified from
Cheap Ethnic Eatz
Ingredients
1 cup Carrot Juice
1 cup heavy cream
1/2 cup sugar (less if you're using a Carrot flavored smoothie)
1/2 teaspoon vanilla extract
1 tablespoon lemon juice
1/3 cup can pineapple, drained and cut into small pieces
1/2 cup carrot, shredded
1/3 cup raisins
1/3 cup sweetened shredded coconut
1 teaspoon orange zest (I found orange peel in the spice section and used it)
1/2 teaspoon allspice
Directions:
Ice Cream Machine
1)
Put carrot smoothie and cream in ice cream machine and start the machine
2)
Add the remaining ingredients
3)
Follow ice cream machine instructions.
Hand made
1)
Mix all the ingredients
2)
Pour into a shallow container and freeze until solid around the outside and mushy in the middle
3)
Stir with a fork and freeze until firm
This ice cream had more in it than any other ice cream that I've tried to make. I think my ice cream maker clogged up at some points with all the additions, so I kept trying to stir it when I saw it happening. This ice cream doesn't taste exactly like carrot cake ice cream, but it does have flavors that hint that direction. I served it with cream cheese pound cake and it was a great combination. One of my favorite carrot cakes that I've ever had, had a hint of orange in it, so I decided to add the orange peel/zest to the mix. I can't wait to go out there and find other ice cream options that I have never considered before.