For the
Secret Recipe Club Swap
this month, the swap in which you are assigned someone's blog and allowed to choose any recipe you want to make, I was assigned
Barbara Bakes
. Barbara started her blog to join the Daring Bakers challenges and I started my blog to join in on the recipe swaps that a food forum I participate in host. Her recipes all sound so good and I had a hard time choosing from desserts like:
Cherry Chocolate Chip Oatmeal Toffee Cookies,
Rocky Road Brownie Bites
, and main dishes like:
Queso Bacon Burgers and Avocado Salsa,
or
Chicken Empanadas with Ranchero Ranch Dressing
.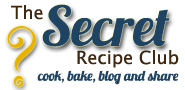 My birthday was March 22nd, and for my birthday I received this gorgeous cast iron skillet. Every blog I came across I searched to see if they had any recipes that reference their cast iron skillet. Barbara had this Chicken Taco Cornbread dish that looked delicious and a great first start for my cast iron, so I knew I had to make it.
Chicken Taco Cornbread Wedges
barely adapted from
Barbara Bakes
Ingredients
Chicken
2 chicken breasts
1 teaspoon cumin
1 teaspoon dried cilantro
1 teaspoon ranch seasoning
Dressing
1/2 cup ranch dressing
1/2 cup salsa verde
1 cup tightly packed cilantro leaves (or 1/2 cup freeze dried cilantro)
Filling
2 tablespoons extra virgin olive oil
1/2 medium onion, finely chopped
1 tablespoon finely chopped jalapeno pepper
2 cups shredded chicken
3 tablespoons finely chopped cilantro leaves (or 2 T. freeze dried cilantro)
1/2 teaspoon salt
1 teaspoon cumin
1/4 teaspoon black pepper
1 can (14 1/2 oz.) diced tomatoes with green chilies (Rotel Original)
Crust
2 cups Marie Calender's Cornbread Mix
1 cup milk
Toppings
1 1/2 cup Colby & Monterey Jack cheese, shredded
3 cups shredded romaine
1 cup chopped tomatoes
Directions
1) Heat oven to 400 degrees F.
2) Sprinkle chicken with seasonings and bake until internal temperature is 160 degrees. Once chicken is done, shred with two forks or place chicken breasts in mixer with paddle attachment and mix on low until shredded.
3) Combine ranch dressing, salsa and 1 cup cilantro leaves in a small food processor or blender. Process until well blended. Cover and refrigerate.
4) In 12-inch cast iron skillet, heat olive oil over medium heat. Add onion, and jalapeno pepper; cook 3 to 5 minutes or until vegetables are tender, stirring frequently. Stir in chicken, cilantro, salt, cumin, pepper and tomatoes with green chilies; cook 5 minutes. Remove from skillet. Wipe out skillet with paper towel; grease.
5) In large bowl combined cornbread mix and milk. Pour cornbread mixture into skillet. Spoon chicken mixture over cornbread mixture; sprinkle with cheese.
6) Bake at 400 degrees F. for 35 to 40 minutes or until golden brown. Cut into wedges. Top with romaine and tomatoes; drizzle with dressing.
This is easily the best dish that I've made in awhile. The flavors are just so pronounced in such a short amount of time, that everything in this dish just pops. The ranch is amazing, and probably something that I'll start making just for regular salads. I've never made cornbread before, but Marie Calendars was such a great compliment to the chicken. I cannot eat a lot of spice, and this to me was quite spicy. However, it was so delicious that I ignored the heat and kept eating. If you're serving it to people that can't eat spices, I'd make sure that the Rotel and salsa you used were mild, but also cut back on some of the cumin. I know that this will be a dish that will get made in our house a lot, and am excited to have found such a great recipe for my cast iron skillet on my first use.
Please find all the other great Secret Recipe Club recipes below.