I joined the crazy Cooking Challenge this month, just in time for chocolate cakes. I'm getting a lot better at baking, so I was really excited about this challenge.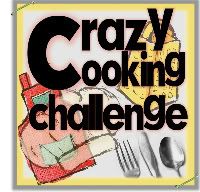 I searched for awhile to find a chocolate cake. I found some that met the criteria, but they didn't have the "drool" factor. Plus, I wanted something that would challenge myself, it is a cooking challenge. I found a double layer chocolate cake, and decided I'd tackle it. First because I've never done a layer cake, and secondly, because it sounded amazing.
Chocolate Chip Layer Cake with Chocolate Chip Buttercream
from
Baking Bites
Ingredients
2 1/4 cups all-purpose flour
1/4 cup unsweetened cocoa powder
1 tsp baking soda
1/2 tsp salt
12 oz semi-sweet or dark chocolate chips, divided (regular or mini)
2/3 cup butter, room temperature
1 1/2 cups sugar
3 large eggs
2 tsp vanilla extract
1 1/2 cups water
Directions
1.
Preheat oven to 350F. Line two 8 or 9 inch round cake pans with parchment paper and lightly grease. In a medium bowl, sift together flour, cocoa powder, baking soda and salt.
2.
In a small, microwave-safe bowl, melt 1 cup of chocolate chips. Set aside to cool.
3.
In a large bowl, cream together butter and sugar until light. Beat in eggs, one at a time, followed by vanilla extract and melted chocolate. Stir in half of the flour mixture, followed by the coffee. Stir in remaining flour mixture. Stir just until no streaks of dry ingredients remain.
4.
Divide batter evenly between prepared pans. Divide chocolate chips evenly between the two pans, sprinkling them on the cake batter. Stir gently with a knife or spatula to incorporate.
5.
Bake for 30-35 minutes, or until a toothpick inserted into the center of the cake comes out clean.
6.
Allow to cool for 5 minutes, then turn out onto a wire rack to cool completely before frosting.
*Note: Cake layers can be made a day in advance and stored in an airtight container before frosting.
To serve: Place one layer of cake on a cake plate or serving tray. Spread a layer of frosting on top, then top with remaining cake layer. Frost top and sides of the cake with remaining frosting. Serve immediately, or store in an airtight container for 2 to 3 days.
Chocolate Sour Cream Buttercream
3/4 cup butter, room temperature
1/2 cup sour cream
3 tbsp cocoa powder
2 tbsp milk
1 tsp vanilla extract
3 cups confectioners' sugar
1/3 cup finely chopped chocolate
Directions
1.
In a large bowl, beat together butter, sour cream, cocoa powder, milk and vanilla until smooth.
2.
Gradually incorporate confectioners' sugar until frosting is thick and smooth. You may not use all of the sugar.
3.
Stir in chopped chocolate.
I made this cake and took it to work so that I wouldn't ruin my New Years Resolution. My coworkers saw the container and couldn't wait an hour to cut into it. Everyone loved it, and I've been asked by many people to make it again already.
I'm not a huge fan of ultra rich cakes, and since this had so much chocolate in it, I was a little worried. However, it was perfect. The ingredients provided the perfect balance so that it wasn't so rich that no one could eat it. I loved the addition of the chocolate chips because in the delicious cake, you'd get another chocolate surprise. This cake will definitely get made again, and taken to work yet again so I'm not tempted to eat all of it by myself.
Follow the link below to find other chocolate cakes: