It is time for another
Crazy Cooking Challenge
. The theme this month was apple pie. I struggled a lot with this one because I didn't really want to buy a frozen pie crust, but I know that I am horrible at making crusts from scratch. I really didn't want a repeat of fried chicken month (massive failure!), so I spent a lot of time looking for a recipe.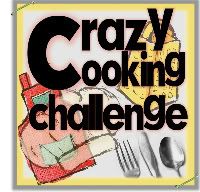 I ran across this recipe three days before the challenge was due. Which normally would have been fine, except I finally got a new job this week. In the midst of getting paperwork done and all the fun stuff that comes with a new job, I thought this would be the easiest recipe.
Cinnamon Roll Dutch Apple Pie
slightly adapted from
Pillsbury
Ingredients
Crumb Topping
1 cup all-purpose flour
1 cup packed brown sugar
1/2 cup butter, softened
Crust
1 can (12.4 oz) Pillsbury® refrigerated cinnamon rolls with icing (canister with 8 rolls)
Filling
6 medium Granny Smith apples, thinly sliced
3/4 cup granulated sugar
2 tablespoons all-purpose flour
1 1/4 teaspoons apple pie spice
2 tablespoons lemon juice
Directions
1)
Heat oven to 375°F.

Spoon icing from can of rolls into small microwavable bowl; cover and refrigerate.
2) In medium bowl, mix Crumb Topping ingredients with fork until large clumps form. Refrigerate.
3)
Lightly flour rolling pin and work surface or cutting board. Separate dough into 8 rolls. With rolling pin, roll each cinnamon roll, cinnamon side up, into 4- to 5-inch round.
In an un-greased 9-inch glass pie plate, place 1 dough round in center. Arrange remaining 7 dough rounds around center round and up side of plate, overlapping slightly as necessary. With fingers, press dough to seal together in bottom and up side of pie plate to form crust.
4)
In large bowl, gently mix filling ingredients. Spoon filling into cinnamon roll-lined pie plate. Sprinkle crumb topping over top to completely cover filling.
5)
Bake about 1 hour or until top is golden brown and apples are tender. Cool on cooling rack at least 1 hour. About 20 minutes in, place foil strips around edge of pie pan so that edges don't get too browned while cooking.
6)
Before serving, microwave icing on High 10 to 15 seconds or until runny enough to drizzle. Drizzle back and forth over top of pie.
I love apple pie. To me, it symbolizes the beginning of fall. I loved the amount of cinnamon that the cinnamon rolls added to the "crust". The only problem we had was that the cinnamon rolls got a little crispy by the end of the hour. It may be better to pre-bake your apples in a dish and then just marry the two at the end. It was still a delicious yet different type of apple pie.
Enjoy checking out all the other variations of apple pie below.