This is my first
Secret Recipe Club
month, which is a great recipe exchange where you receive a blog and can choose anything to make. I actually applied to be part of this exchange in November of 2011, so I'm glad that I was finally chosen to participate. Please drop by the website to find a ton of great recipes and all the info about the swap.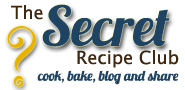 For my first swap, I received Meghan's blog
Cupcakes with Sprinkles
. She says she's never too full for dessert which resonates with me. A great dessert can make a good meal that much better, and people unite over dessert. I loved looking through her desserts, she has such a diverse assortment. I had a hard time choosing between the these bars,
Caramel Apple Cheesecake bars,
and
Snickerdoodle Cupcakes.
I chose these because I have a soft spot for oreos and they just sounded too good to pass up, but I know this blog will provide me with desserts for every party that I have for a long time to come. Head on over and check out her awesome desserts.
Triple Chocolate Oreo Bars
as seen on
Cupcakes with Sprinkles
Ingredients
1-16.6oz pkg Oreo Cookies
1/2 cup (1 stick) Butter, melted
1-14oz can Sweetened Condensed Milk
1 cup Semi-Sweet Chocolate Chips
1/2 cup Milk Chocolate Chips
1/2 cup Mini Chocolate Chips
1 cup White Chocolate Chips, melted
1) Preheat oven to 325 degrees. Line 9x13 pan with foil, shiny side down, and spray with a non-stick spray.
2) Crush all but 8 Oreos in a food processor. Place the crushed Oreos into a medium bowl and salt and melted butter stir until combined. Press the Oreo mixture into the prepared pan. Coarsely chop the remaining 8 Oreos and set aside.
3) In a double boiler, just a glass or metal bowl over a pan of boiling water, add the sweetened condensed milk, semi-sweet chocolate chips, milk chocolate chips and the vanilla. Stir until completely melted. Remove bowl from heat. Pour the melted chocolate mixture over the Oreo crust in the pan. Sprinkle with mini chocolate chips and the coarsely chopped Oreos over the chocolate mixture. Press down gently on the chips and Oreos.
4) Bake for 20-22 minutes. Cool pan on a wire rack for 1 hour. Melt the white chocolate chips and drizzle over the bars. Chill in the fridge until cooled completely.
I obviously had a problem with the white chocolate layer, as can be seen with my photo, so these were really Double Chocolate Oreo Bars. For some reason, my white chocolate chips never melted right, so I just decided not to put them on the top. But, I was serving them at the Super Bowl party and everyone loved them, so I considered them a hit. I loved the bottom and how moist and oreo-like it was, and the other layers complimented the base perfectly. While these were very chocolately, they weren't too rich. There's never such a thing as too much chocolate, right?
These are really easy to put together and super delicious. I wonder if they'd be good with the flavored oreos...or the golden ones. I guess that will be my next thing to try.
Please check out all the other great Secret Recipe Club recipes below.